Driving isn't always simple, but the right tech tools can make it easier. Here are 12 apps to try.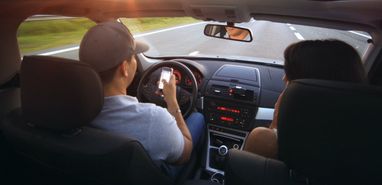 Driving is a regular activity for most people who own cars. Today's automobiles are impressively high-tech, equipped with lane departure detectors, parking assistants, rearview cameras and more. Even with all those technology-related perks, driving isn't always enjoyable. That outcome could occur for many reasons, such as:
Getting lost
Breaking down
Failing to find a close parking space
Feeling unfamiliar with an area and its amenities
The good news is that you can get help with all these issues and more by downloading some helpful driving apps before departing on your next car trip. Here are 12 that are well worth your attention:
People who have electric vehicles or are thinking about getting them often worry about the possibility of depleting the battery while being dozens of miles away from the nearest charging point. However, auto industry analysts say that people are now more anxious about finding a place to charge their cars rather than worrying about having enough power to get to the destinations.
Driving any vehicle requires planning, but since electric cars are relatively new, some people feel more nervous operating them than gas-powered options. PlugShare is an app that aims to eliminate the hassles of finding charging points. You can use it on an iOS or Android smartphone, as well as a web browser. That means it's useful for both trip preparations and on-the-go use.
It works as a map, showing the closest places to charge up. If you have an electric vehicle charging point to offer for public use or find one not listed within the app, you can add new data and keep all users in the loop. Users can also filter the results based on the charging port their cars have.
Having car trouble is often overwhelming. The situation can feel even worse if you are unfamiliar with the area or are dealing with a dysfunctional car in the middle of the night.
HONK is an app that simplifies getting help wherever you are. It lets you describe the problem, pay securely for the assistance and receive the aid in 15-30 minutes. If you have a flat tire, a background-checked person can show up to help change it. Or, if the problem is more substantial and requires towing the automobile to the nearest repair shop, the app can sort that out, too.
Carpooling ideally streamlines transportation by coordinating the trips of people going in the same direction or to identical destinations. It saves time and gas when done well, but figuring out the logistics can prove more difficult than expected. GoKid cuts out the stressful parts by making carpool planning a breeze.
It's an invite-only app, so you can encourage people you trust to start using it. Plus, all invitees get a shared schedule showing what the transportation needs are and what's happening when and where. Automatic reminders ensure that users don't forget when it's their turn to drive. Plus, route optimization takes the guesswork out of determining which stops to make first.
Wavyn is an app that encourages you to drive safely and provides helpful prompts to reduce the likelihood of accidents or other events that could put a damper on your trip. For example, there's a collision alert feature that encourages you to slow down to avoid hitting the driver in front of you. Moreover, an artificial intelligence algorithm uses your phone's rear camera to scan traffic around you to help you stay aware of possible issues.
You can get speed limit warnings, too. These could urge you to slow down before a highway patrol officer notices your vehicle's rate of travel and issues a speeding ticket. The app has a gamification aspect as well. Safe driving earns you points. Consider keeping an ongoing record of your best totals and challenge yourself to get better with every drive.
The incoming text notification sound may tempt you to glance down at your phone and craft a hurried reply. Those may seem like harmless actions, but they could be deadly. Statistics from the United States show that distracted driving caused 2,841 deaths in 2018 alone.
The best way to avoid putting yourself and others in danger of receiving a fine is to keep your phone out of reach. Since most people have their smartphones close for most of the day, behaving differently requires creating a new habit. OnMyWay is an app that gives you a financial incentive to take a break from your phone while behind the wheel.
It gives you cash for every mile driven without texting. You can then redeem the earned amounts for goods at participating merchants. You can also accumulate dollars through other ways, such as referring friends or being an OnMyWay user who's a passenger in a car where the driver does not use their phone.
If you're an AAA member, there are several ways to get help. You might start by visiting the website of your local office or stopping by in person to get advice. AAA is also there for you once your trip begins. Many people know AAA provides roadside assistance, but it offers a lot more than that to travellers. By using the AAA Mobile app, you can book a hotel or rental car, get directions and more.
The AAA Mobile app also helps you save money while travelling. It shows member discounts you can take advantage of whether you're on the road for pleasure or work. Unlike some more specific driving apps, this one bundles several practical features into one application, helping you make the most of AAA membership.
When you're feeling tired, hungry or in need of a break from the highway to stretch your legs, finding the nearest rest stop can feel like an urgent mission. USA Rest Stop Locator lives up to its name by making that easier.
It displays the nearest options within 25 miles of where you are. Plus, it shows real-time data to give you the most accurate insights. There's no need to worry about showing up to a temporarily or permanently closed facility. You can also plan which rest areas to visit, then get notifications about being within five miles of one of them.
Getting to your destination is one milestone, but the next one involves finding a parking space. Parkopedia displays accurate data about 70 million parking choices in more than 15,000 cities around the world.
Users can also get pertinent information that could influence their decisions on whether to use a particular garage. The app shows them the opening hours, security amenities, payment methods accepted and other crucial information that a person would prefer to find out before pulling into the structure.
Most people can remember times when they stumbled across amazing places that they never knew existed moments before. Roadtrippers is an app that wants to make those experiences more commonplace. It works by telling people about destinations nearby that they may want to check out.
The app also allows users to create a list of places they want to keep track of so they can return later or bring friends. Statistics released in February 2020 showed that people planned more than 25 million trips through the app. Roadtrippers also released a list of hundreds of extraordinary places that are perfect for inspiring someone's sense of adventure.
Do you have to track your miles for work to get reimbursed later? Many people do, and MileIQ is an app to make the process quick and convenient. It works in the background on your phone to automatically log the distances driven. You can also classify different trips as business or personal to avoid the stress of trying to keep them separate in your mind.
Adding details such as tolls paid or the specific purposes for a journey is also easy. You'll then get weekly trip reports to look over before sending them to a supervisor or accounting department for approval.
If you've ever felt frustrated because you weren't able to scrutinize a highway exit sign closely enough before passing it, this app is for you. It offers you guides to all the exits along your route, aiding you in deciding whether to stop or keep driving.
Learn about lodging options, restaurants and fuel prices before arriving at the exit ramp, then use your recently gained information to make smarter choices. Then, you can save time by only stopping at the exits with the precise businesses you need to use.
The cost of fuel can make up a substantial percentage of overall trip costs, but GasBuddy wants to keep you more informed. Use the gas prices map to choose the least-expensive places to fill the tank. Plus, try the trip cost calculator to determine if you set aside enough of your budget to cover gasoline expenses.
The fuel insights feature lets you track trends over time, while an outage alert section helps you find pumps that still work during natural disasters or other issues that may make gas scarce. There's also a part of the app that lets you log gas mileage and keep tabs on how your car performs.
Driving apps to download before embarking
These 12 apps offer the knowledge you need for more rewarding car trips. No matter if you're driving for work or pleasure, obstacles can crop up that affect your mood and prolong your trip length. Staying informed is one of the best ways to avoid issues, and these purposeful applications help you do that.
Bear in mind that most of the apps here offer some free access. However, you may need to sign up for a subscription or membership to get all the perks. It's smart to spend time getting acquainted with the chosen apps for at least a few days before leaving on a trip. Then, you'll be familiar with all the advantages that could make your next car journey the best yet.