Disappointed by Rockstar's decision to push Red Dead Redemption 2 back to October? You're not the only one, but at least they've promised not to push it back any further.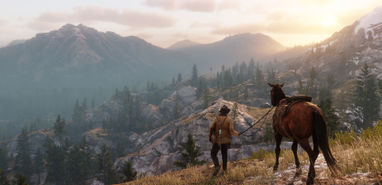 Disappointed by Rockstar's decision to push Red Dead Redemption 2 back to October? You're not the only one, but at least they've promised not to push it back any further. Still, given Rockstar's history of pushing back release dates to ensure their games release in a relatively polished state.
To soothe those game delay blues, here's a quick recap on everything we know about RDR 2 and what you should come to expect in the latest entry to Rockstar's take on a Western without larger than life heroes. Remember, all of this information is pre-release and could change wildly before we see the final product, but many details have been vetted by inside sources or compiled from freely-available information.
Red Dead through the years
Way back in 2004, Capcom was at the forefront of developing an arcade-heavy take on the Wild West period of American history which generally takes place in the late 19th century through the early 20th century, often riddled with the ever-popular tropes of the classic cowboy wielding revolvers as he rides across desert landscapes to sort out cattle-rustling wrongs and saves small townships from roaming packs of bandits. Capcom's take on the Old West promised to be extremely arcade-oriented before Rockstar stepped in to take the reins.
As expected, the series was toned down just a touch to fit in with the developer's other offerings of the time, though it retained a fairly exaggerated take on reality. Years passed with no sign of a revival until the announcement of an untitled Wild West project that eventually became Red Dead Redemption. Billed as a spiritual successor, Redemption took a very gritty, realistic look at what it may have looked like to live in the frontier age where law and order had to be forged out of thin air, leading to clashes between the lawful and the lawless. It received numerous awards and praise across the board.
Red Dead Redemption 2: Factoids, rumours and leaks
Since the release of Grand Theft Auto V back in 2013, Rockstar has been fairly quiet on the topic of what Red Dead's sequel might entail. Most of what follows has been compiled from a recent release by Trusted Reviews who claims to have held this information since late last year.
For starters, the sequel won't follow John Marston from the first game but rather focus on fellow members of his ex-gang. Arthur Morgan seems to be the player character while Dutch Van Der Linde, returning from Red Dead Redemption, has an unspecified role within the story as a prominent character or a second protagonist. Given how GTA V had a story element that involved swapping between multiple characters, assuming RDR 2 might use the same mechanic isn't a huge stretch.
The title also seems to be a prequel story, though there has been some small buzz around the possibility of a shifting narrative between past and present events in the series. Early looks at the first trailers showed landscapes with swampy and boggy atmospheres along with desert areas like the first two games and seems designed to shake up the scenery. As for the time period the game takes place in, TechRadar notes several context clues in the teaser trailers that point to the game possibly taking place as early as the 1880s, though that seems to conflict with the presumed age of several characters in the series.
For those who enjoy the online portion of the GTA franchise there's already plenty of word in the leaked memo about an open-world multiplayer experience on offer, including player housing, global challenges to complete on a daily basis and side activities to fill out your time between shooting fellow cowboys in the head. Several multiplayer modes that presumably fill out the same role as GTA 5's self-contained multiplayer missions have been released as well.
But when does it drop?
Official word on the Rockstar website shows October 28th as the game's release date for Xbox One and PS4, with no word released yet about a possible PC version. Don't lose hope yet if you happen to prefer your PC, though, as it took quite a few months for GTA 5's PC port to get an official announcement, let alone a proper launch.
So while it may be a few months off of its original hyped date, Red Dead Redemption 2 is sizing up to be one of the most impressive games of the year. Here's hoping Rockstar follows through with what they've learned from GTA 5 and leaves the Shark Card system where it belongs.