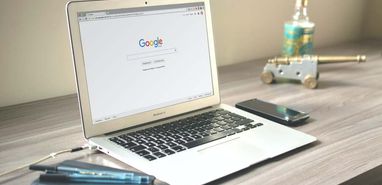 Isn't it exasperating when you can't access the sites you want to utilize or view? And why do some websites get blocked in the first place? Is there a way to access these blocked sites and still get your work done on time?
In this article, we will learn how you can access blocked websites and answer the above questions.
Note:
Consult with any applicable authority before utilizing these methods. Should you breach any regulations, we will not be held responsible.
The Fuss About Blocked Websites
Most organizations believe some websites pose severe security threats to their networks. These sites host malware and malicious software that can perform unauthorized actions. Further, hackers can access personal information, passwords, and other sensitive data.
Website blocking has been controversial since its unfolding, and there are good arguments for and against it.
The defenders opine that schools must protect the students from obscene and harmful content in the malware invading their digital privacy. Meanwhile, those against website blocking state that it is an attack on students' liberty and inventiveness.
According to AASL's paper on Filtering in Schools, 98% of US schools block lewd content. This includes pornography, violence-inciting content, racist content, and much more.
In workplaces, bosses fear their employees may spend working hours on unprofessional websites, with productivity taking a hit. While websites can be blocked for many reasons, some sites may shut off due to security factors.
Whatever the reason, you can use the following methods to bypass blocked sites. Let's get started.
Method 1: Switch to VPN
A Virtual Private Network (VPN) provides you anonymity by creating a private network from a public internet connection. It hides your IP address, so your online actions are virtually invisible to hackers. VPNs are primarily used to access area-restricted websites, stash browsing history, and bypass internet censorship.
How to use it?
Step 1
Choose a reliable VPN service, paid or free, based on your requirements. The paid version offers more features and adds that extra layer of security to your search.
Step 2
Make the payment (if using a premium account) and sign up. Typically, most VPNs only ask for your email address to set up the account. However, a handful of VPN service providers take the security game to another level and don't require your email address.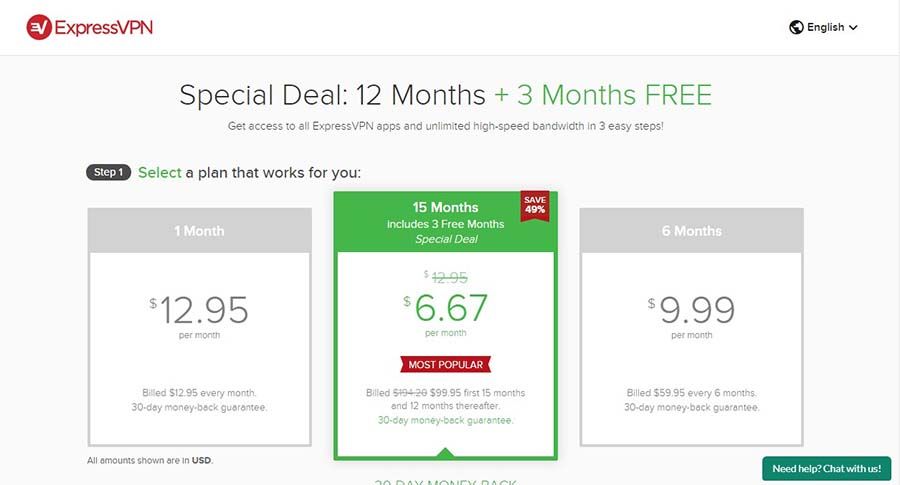 Step 3
Finally, connect to a VPN server. The app will automatically connect you to a server with the lowest latency and the fastest speed. Some VPNs allow you to choose the server of your choice.
Method 2: Extensions to The Rescue
Extensions enable you to access region-restricted websites and streaming services for nothing. They are the connectors between users and VPN servers.
These extensions come with a built-in list of websites often blocked by service providers, schools, or corporates. They work on most browsers, including Chrome, Firefox, and Opera. Also, some extensions have exclusive mobile applications.
One such rewarding add-on is Stealthy. It is a robust chrome extension to access websites blocked due to topographical features and governmental or organizational guidelines.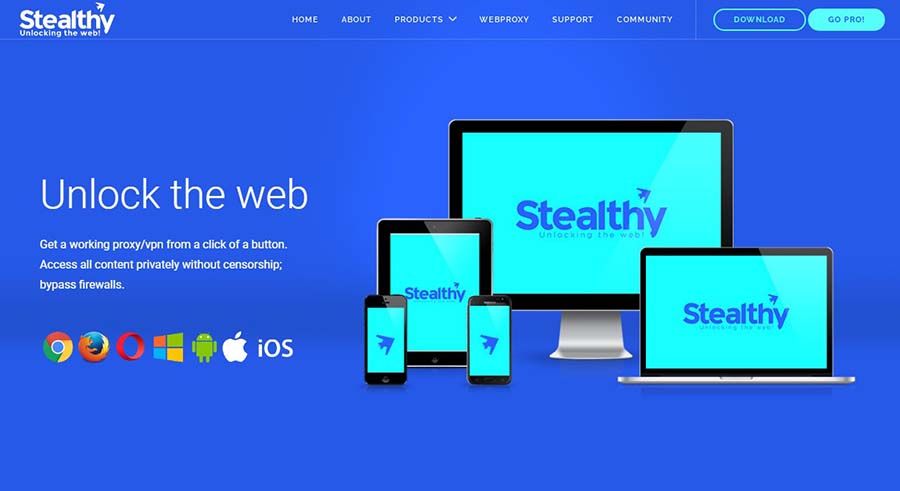 How to use it?
Step 1
Go to the installation page and click "Add to Chrome," as shown in the snapshot.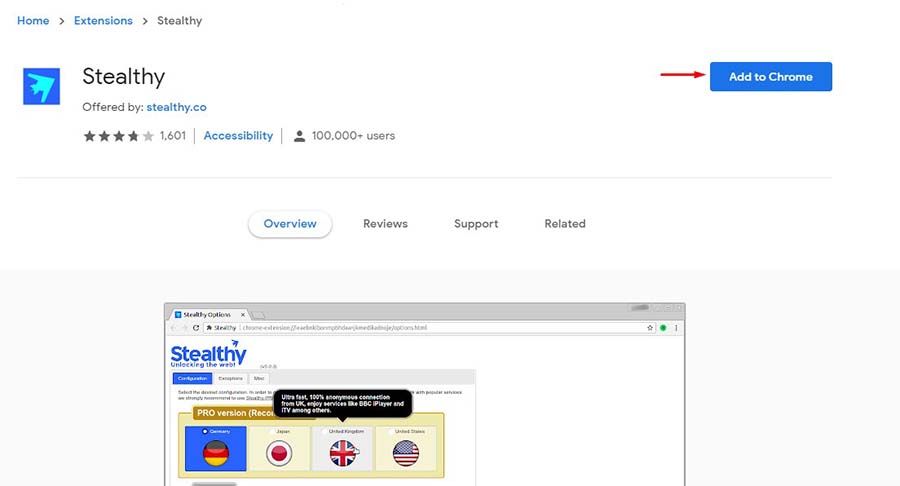 Step 2
In the permissions prompt, click "Add extension," and the installation will start like a shot.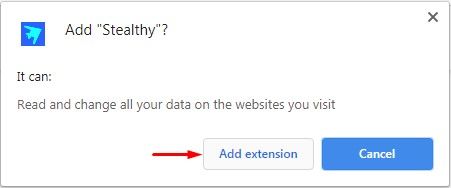 Step 3
Click on the red icon. It will turn green, indicating the extension is on. You are now ready to browse your favorite sites with zero restrictions.


Method 3: Use Google Translate to Hide The Web Address
Using Google Translate is the simplest method of accessing blocked websites. It is an adequate substitute for a proxy site or VPN. Most countries don't ban Google Translate so that you can use it to its fullest potential. The process is relatively straightforward and follows the below instructions.
Step 1
Go to "www.translate.google.com" or open the Google Translate application.
Step 2
Type in the web address (www.example.com) of the site you want to access in the first box of translation.

Step 3
Click on the website in the right box. Google Translate will direct you to the site as a search result in Translate.

Method 4: Use The Website's Mobile Version
Most blocking services don't restrict the mobile version of blocked sites. The majority of the geo-restricted sites have mobile alternatives. For those sites, you can try using their URLs.
How to use it?
Type "m." between "www." and the website name (www.m.example.com). The corresponding mobile version of the site will open, and you can use it on the go.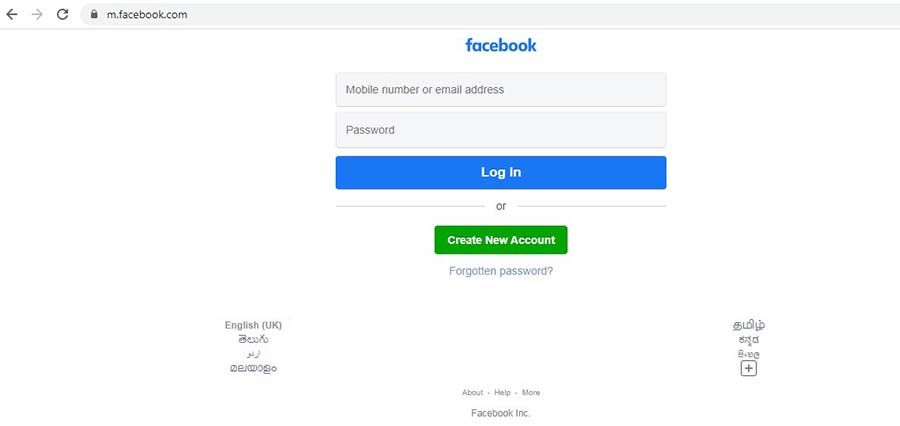 Method 5: Check Network Proxy Servers on Browsers
How often do we find that company management has placed broad restrictions on website use in a corporate environment? Imposing such methods to maintain employee productivity can backfire on the company, leading to lowered employee satisfaction and trust.
Proxy server websites are the go-to resources in such situations. Hundreds of proxies are available on the web to make your browsing experience seamless. They are the intermediate between the websites and the users. They shield the blocked sites from the ISPs and allow the users to access them without restrictions.
These services are available free as well as paid. Some proxy websites offer premium services with 100% anonymity claims and faster speed. On the other hand, free proxies can slow down your connection speed as thousands of users might be using the same server simultaneously.
How to use it?
Let's use Hidester proxy services as an example to understand better using proxies:
Step 1
Go to the Hidester proxy website.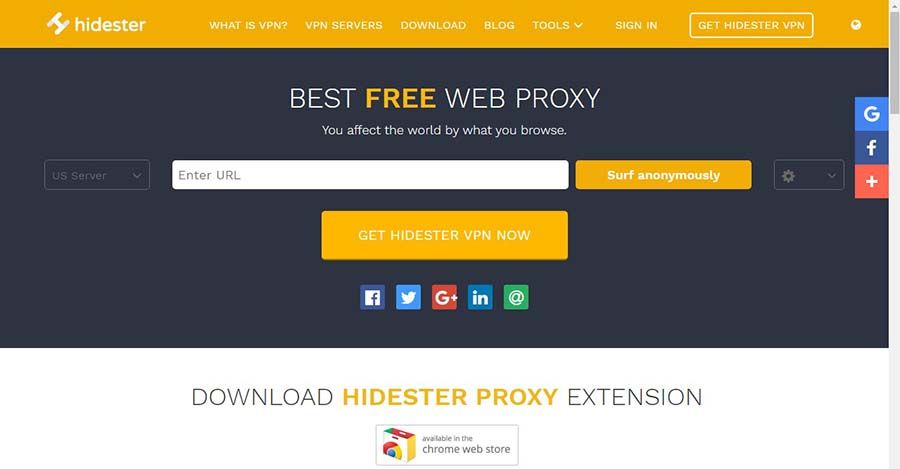 Step 2
In the search bar, type the URL of the desired website which is blocked.

Step 3
Click on "Surf Anonymously." Your search results will appear on your screen right away.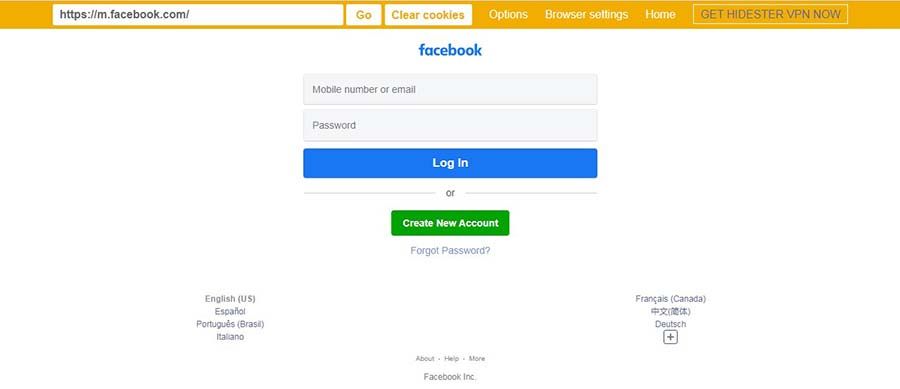 Note:
Hidester proxy works especially well for users in the USA and Europe. Most other proxies offer multiple locations for users to view the version of a page in a particular region. However, if you select a country outside of your location for your IP address location, you might have to wait longer to view the results.
Tip:
Are you looking to get a pair of limited-edition sneakers? Of course, you can request a pair straight from their website, and while doing so, the sites record the IP address from which the request is made. But to make multiple requests, you would need multiple IP addresses. The solution to this is utilizing
sneaker proxies
. They mask your real IP address so that the sneaker websites can't pick from where the request was made.
Method 6: Subscribe to RSS Feeds
About two decades ago, people checked for news updates on their favorite websites. And very often, their efforts were in vain as there was nothing new to find on the site.
The scenario changed with the inception of the RSS web feed (RDF Site Summary or Really Simple Syndication). With this, users can get the latest updates from websites in a computer-readable format. RSS allows users to track many sites in a common news aggregator. In addition, it integrates syndicated web content such as newspapers, blogs, vlogs, videos, and more.
How to use it?
You can use RSS feeds for blocked websites by subscribing to their newsletter. In addition, you can access their latest blog posts, podcasts, newsletter, updates, and other content on your email account on the go. Note that some websites offer these services only with membership.

The updates in the content may be available daily, weekly, or monthly depending on the website. Most sites have their email subscription block on the bottom of the webpage or appear as a pop-up.
Method 7: Give Wayback Machine a Shot
Wayback Machine is a vast repository estimated at 486 billion web pages saved over time. It is a huge, non-profit library of books, movies, music, software, images, and more. Not only does it allow users to access the archived web pages, but it also lets users save the pages. These may prove to be trustworthy citations in the future.
Thinking of using this tool to take a glimpse of your social media feed? It won't work. The tool is specially designed for accessing research resources that aren't accessible now.
How to use it?
Step 1
Search for "Wayback Machine" in your browser or simply type in archive.org in the search bar.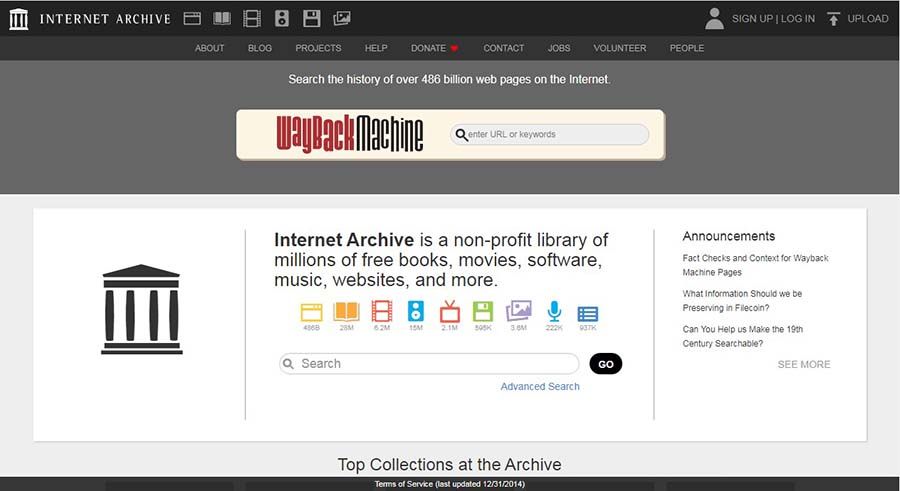 Step 2
In the search bar, type the information you are looking for. Also, you'll be able to click on the icon of your search (audios, videos, images, books, music, films, etc.).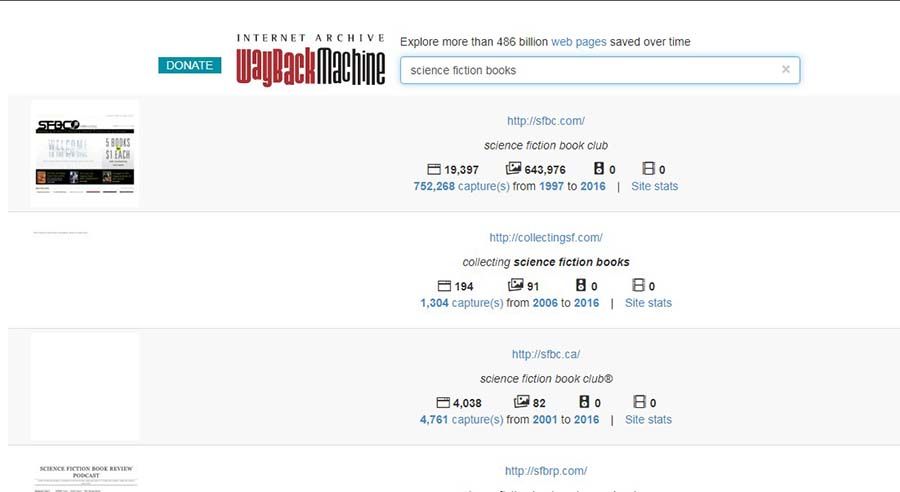 How to access blocked sites at work or school?
Notably, institutions like offices, universities, or schools have banned certain websites that can suppress productivity and performance.
However, these limitations sometimes overreach. If you want to get a ride on social media platforms or be aware of your emails, you should find a way to unblock sites that prevent wish fulfillment.
So, here is a solution for you. You may install a VPN and use it as much as you want on your personal work computer. However, you can't enjoy it if you're using a public computer at the office or school or are not assigned a workstation.
In this situation, you can use a proxy website as it does not need to be installed. Using IP instead of URL or simply converting page stuff to a PDF format is another excellent way to unblock sites at work or school.
Why are websites getting blocked?
There can be many reasons if you are having trouble getting access to a web page. Fortunately, you can fix this problem if the government has banned the site or if you have left the parental control filter active on the site.
Censorship:

Surprisingly, online censorship is still a big problem in 2022, and China isn't the only one responsible for it. However, many governments ban content that may conflict with their religious or political views, and a reliable VPN is a great way to avoid this.

Work policy:

Many offices, universities, and schools ban specific sites because of inappropriate, immoral, or illegal content. However, even perfectly secure sites are often banned to conserve bandwidth or boost productivity.

Geo-blocking:

Due to copyright agreements, most streaming websites like Netflix offer specific content according to the different preferences of residents of different countries. Fortunately, with the help of proxies and VPNs, you can watch geo-restricted content worldwide.
Conclusion
In today's world, unblocking restricted websites is no longer a grueling task. With the help of cutting-edge technology, companies are creating innovative tools to aid netizens in viewing almost anything on the web. Nevertheless, user discretion is advised while browsing blocked websites. You will most likely face legal consequences if you get caught and might even get suspended/terminated from your organization.