Having trouble falling asleep or feeling depressed? Try listening to ASMR using these apps to get rid of these feelings.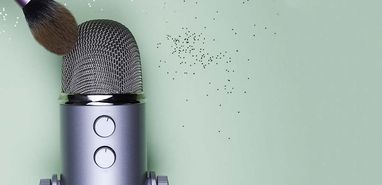 Autonomous sensory meridian response or ASMR has been growing massively for the past couple of years. During ASMR, the body's response to the stimuli is quite interesting as it produces 'tingles'. These tingles are generated at the top of the head and make their way throughout the rest of the body. The stimuli that can trigger ASMR includes sounds of whispering or someone speaking very softly, brushing hair, turning pages, close personnel attention, etc.
ASMR videos are made using some top quality ASMR microphones. The recording is usually done using a method called "Binaural Recording" which uses two microphones to create a 3D-like effect. But now-a-days we also have Binaural Microphones, using which we can achieve the same purpose but with one less microphone.
Suggestion: Popular Apps to Boost Your Productivity at Work
Not everyone can experience ASMR. However, it is a pretty interesting experience for those, who can experience it. Due to its fast growing fanbase and popularity, there are tons of ASMR apps and YouTube channels dedicated entirely to quality ASMR content. To help you find top-notch ASMR content, below is a list of the best ASMR apps that you must have if you are an ASMR lover.
Best ASMR Apps
Tingles


Tingles is a quite popular ASMR app and it has all the reasons to be it. It was quite impressive how good the app was. One of the many advantages of tingles is that it has no ads at all, unlike many other free apps. Continuos streaming without the interruption of ads was soothing. Another huge advantage of this app is that it can play videos in the background, or with your screen turned off.

It's a huge plus as the majority of ASMR lovers listen to it to fall asleep, and what better way to do it if you could also turn your screen off. It features a lot of ASMRtists that produce quality content and you'll admire their work. This app also has a sleep timer. You can set a timer for as long as you like. You can also get notifications whenever your favorite artists upload new videos. Overall, it's a great app and is definitely worth the hype.

GET IT ON GOOGLE PLAY

TeasEar

Screenshot via Google Play Store

TeasEar is a fine app if you are looking for an ASMR app that would really relax you. Not only does it offer a variety of sounds that trigger ASMR, but it also comes along with pretty cool features. Users can listen to ASMR sounds and can also do a lot of satisfying activities through this app. For example, you can virtually play with any material of your choice. Slime is loved by most ASMR lovers due to its squishiness and the sounds it produces. You can also play with bubble gum, foam, yogurt, and any other material that soothes you and calms your nerves.

It's pretty cool that you can interact with these materials along with the production of realistic background sounds. Moreover, the sounds library is quite versatile to fit your taste. It is noteworthy that not only this app is completely free, it features no ads as well. In a nutshell, this app is pretty interesting and you should definitely give it a try.

GET IT ON GOOGLE PLAY

Somnia


Another app that is adored by ASMR lovers is Somnia. This app gained popularity due to its quite realistic and high-quality 3D sounds that are made with top quality ASMR microphones. This also lead it to be among the most popular ASMR apps on Android and iOS. The app offers several diverse categories of sounds like brushing, scratching, tapping, squishing, and many more. Another huge perk of this app is that it offers personalized experience to users based on their individual listening preferences and problems.

For example, if you are struggling to fall asleep, there are sounds for that. If it's anxiety or depression, there are sounds to help with that as well. Aditionally, you can also customize the sounds according to your taste for a more personal and fulfilling listening experience. The sound quality in this app is exceptional as it uses Spatial 3D Audio through binaural ASMR microphone that bring a sense of comfort and calmness to your nerves. All in all, if you are looking for an ASMR app that has outstanding sound quality then you better try this app out.

GET IT ON GOOGLE PLAY

Silk ASMR

Screenshot via Apple App Store

If you're not a fan of the visuals associated with ASMR videos, Silk might peak your interest as it has eliminated visual features, focussing entirely on the star of the show: audio. This app is pretty easy to use and rather than paying a subscription fee, it allows you to purchase and download tracks individually. There are around 300 tracks from which you can choose the ones according to your liking. Another cool feature of this app is that it allows users to mix sounds allowing them to create their own unique audio. Currently, Silk is available for iOs users only.

GET IT ON APPLE STORE

 ASMRtist

Screenshot via Apple App Store

If you are looking for an ASMR app that is completely free then ASMRtist is the one to try out. It does not feature a fancy user interface or shiny visuals, however, you can listen to more than 100 ASMR sounds that trigger the heavenly tingles. Highly satisfying ASMR experience that will help you relax and sleep peacefully is guaranteed through this app. Another great feature of ASMRtist is that you can put together multiple ASMR sounds at the same time and go into a sheer state of comfort and tranquility.

That being said, the only con is that it features some ads within the app. This app feature all the standard ASMR tracks, as well as unique sounds like crumpling paper, water stream, ice cubes, massage, and many more. Overall, it's a free app and fulfills its purpose. It's definitely worth downloading.

GET IT ON APPLE STORE

Mindwell


People who consider ASMR a therapy should give Mindwell a chance. It is an extensive meditation app which has a lot of categories including ASMR as one among several. It is ideal for people who enjoy making ASMR, part of their relaxtion routine. Users can select recordings based on their individual goals e.g. for falling asleep (where you will also find ASMR), boosting mood, dealing with depression, stress or anxiety, dealing with challenging relationships, etc. Mindwell is available for both iOs as well as android users.

GET IT ON GOOGLE PLAY

ASMR Slicing


If you're someone who lives for the experience, then this app is surely for you. There is a huge fanbase of people that enjoy cutting anything. ASMR lovers get pure satisfaction and tingles through this and if you're someone who is into this, chances are you'll love this app. It's an interesting simulator cutting game where one can dice huge collection of colorful objects and shapes made of kinetic sand. Furthermore, you can cut, slice, and dice a large variety of objects to experience the amazing ASMR tingles.

The app is pretty well-designed, has amazing visuals, and produces crisp ASMR sounds due to the use of top quality ASMR microphones for audio. Overall, it's an amazing app where you can slice objects and feel the tingles.

GET IT ON GOOGLE PLAY
Note:
ASMR is a great way to help you relax without putting in any effort. All you have got to do is just sit back, listen to it and relax. Plenty of apps have been made solely for this purpose. In order to help ASMR lovers find their sweet spot, i tried plenty of ASMR apps to shortlist the ones that actually made me happy. They are all mentioned above and i hope that they have the same affect on you as well.