Is your MacBook trackpad playing up? Perhaps it's being erratic or simply not working at all. Well, to help you out, here are the top troubleshooting tips for fixing your trackpad.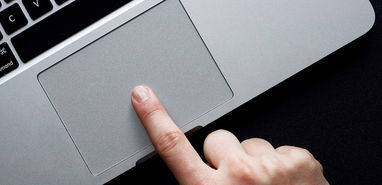 For most of us, your MacBook trackpad is an extremely useful tool that means we don't need to use an external mouse. Indeed, your trackpad can be used to slide, click, tap and swipe – which makes simple navigation and ease-of-use for most Mac users.
The problem is, as with most gadgets, your MacBook trackpad might run into a number of issues over its lifespan, which can be extremely annoying. Not to worry, though, as if your trackpad is on the blink, out handy TechLoot guide will help you find a solution and have your trackpad up and running again in no time at all.
So, before you head off to the Apple shop, here are 5 simple reasons why your trackpad isn't working and what you can do to solve the problem:
1. You need to update your Mac's operating system
While it might not seem like it, making sure that your MacBook is running the latest update of macOS can really help the performance of your trackpad. That's because, when an update is released, it usually comes with a lot of patches that seek to improve any bugs in that computer's system.
Which means, if your trackpad has been feeling a little unresponsive – causing you to frantically click until it fills a command – there could be a correlation between your operating system and your trackpad performance.
Now, you might think that you are running the latest macOS version, however, you might be surprised at just how many of us miss the notification of an update while we're busy working. So, simply head over to the app store and check your update list.
In particular, you're going to want to look for an update that mentions your trackpad, especially if you don't want to make a lot of updates. You should aim to have everything updated when you do have time, though.
Even better, if your Mac has been feeling slow lately, updating to the latest macOS is a great way to speed your Mac up too.
2. Double-check your trackpad settings
If you've found your trackpad is still being temperamental despite updating your system, or you've updated macOS and it's still not working properly, your next port of call should be to look at your trackpad settings.
Here are a few of the ways your trackpad could be experiencing problems and the settings you should check:
Your trackpad is not working at all
Just because your trackpad is completely unresponsive, it doesn't mean that there's a major underlying problem – it could just be a settings issue.
First off, you should ensure that you don't have a physical mouse hooked up to our system, as your MacBook might be set to turn off trackpad when a mouse is detected. Look for a USB connection or check for Bluetooth connections. If you remove your mouse and the trackpad starts working again, then you can simply change your settings.
Here go to System preferences > Mouse and trackpad > Untick ignore built-in trackpad when mouse or wireless trackpad is present, from then on, you'll still be able to use your trackpad when a mouse is connected.
You're unable to double click using the trackpad
When it comes to double-clicking, your MacBook is used to users with super-fast fingers. Which means, if you're a little slow when it comes to your double click, your laptop might just not recognise your intention.
Simply go to System preferences > Accessibility > Mouse and trackpad and then you can adjust your double click speed level. Generally, halfway is fine for your average user but if you'd like to go slower then you can.
Your cursor is erratic
Do you brush your finger across your trackpad and find that your cursor flies across the screen, making it impossible to use? Or, perhaps, you find that your curser is extremely slow, meaning you're having to really drag your finger. Either way, the cursor tracking speed could be to blame.
To adjust yours, head to System preferences > Trackpad > Tracking speed. You can then play around with the speeds until you find a level that suits you.
3. It could be something simple like your hands
Trackpads are made to be sensitive, meaning that the slightest of strokes should make your MacBook curser go where you would like it to go. However, with such sensitivity, it opens the doors for some problems. So, if your trackpad isn't working as you would like it to, it could be something to do with your hands.
For one, if your hands are wet – whether that be damp from just washing your hands or because you're sweaty – that moisture could be interfering with your trackpad. To combat this, make sure that you have something to wipe your hands on from time-to-time.
Jewellery can also confuse your trackpad, creating multiple signals that can interfere with what you're actually trying to achieve. So, beware of wearing lots of rings and/or bracelets. If they are interfering, take them off and place them in a safe place to put back on later.
4. Your MacBook battery can interfere with your trackpad
You might be surprised to hear that your battery can often be at the epicentre of your trackpad problems. Even something as simple as your battery being too low can play havoc with your trackpad, causing it to stop working.
More likely, if there is something wrong with your trackpad it could be connected to your MacBook battery swelling, which has been a common problem with Apple for years now. If you believe your battery is at fault, you can either remove it yourself or ask someone else to do it for you. From there, connect it your MacBook to the mains and see if your trackpad works again.
If your MacBook is still under warranty, contact Apple Support and they should replace the battery for you.
5. Start from new!
Sometimes, no matter how much fiddling around you do, your trackpad just refuses to work. In this case, you can go to the extreme and restore your MacBook to factory settings. Now, this isn't for everyone – particularly if you have a lot of files stored on your laptop that you don't want to replace.
However, if you really want your trackpad to work again, a factory reset might be the best option. To make the process easier, save everything you need on the iCloud and/or on an external hard drive. That way, it won't take you too long to have your MacBook back to its former glory – including your trackpad working again.
It's more than likely that by going through these steps, your trackpad should start working again. If you're still having problems, though, you might need to face the option of taking your MacBook into your nearest Apple store or other MacBook repair shop. Or, if you're not too bothered by your trackpad, just use an external mouse instead!